5th NeuroMI International Meeting: Food for Brain: promoting health and preventing diseases – November 20-22, 2019, Milan, Italy
June 24, 2019
The 5th International Meeting of NeuroMI will be held in Milan at the University of Milano-Bicocca from 20 to 22 November 2019.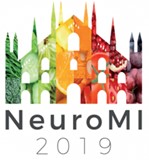 "Food for brain: promoting health and preventing diseases" is the topic of this fifth international meeting, organized in collaboration with Best4Food, a multidisciplinary Center of the University of Milano-Bicocca dedicated to food research. Within Best4Food more than 100 scientists investigate the food chain – including transformation, distribution, consumption and labeling – to enhance food nutritional properties and to identify the most suitable strategies to improve environmental sustainability and human life quality.
Diets inextricably link human health and environmental sustainability. The scientific targets for healthy diets and sustainable food systems are integrated into a common framework, which should be universal for all food cultures and production systems in the world, with a high potential for local adaptation and scalability.
Food is also one of the main human motivator, and its hedonic quality has the power to drive many of our everyday activities.
The brain, which represents 2% of our body weight, consumes about 20% of the calories we eat each day and the quality of the food affects brain development and functions and the onset of neurological and psychiatric disorders.
 Nutraceuticals are also emerging strategies to prevent and treat brain disorders.
 All these topics will be explored and top level international scientists will cover the most recent data in each field. Young scientists are also invited to submit their contributions, which will be selected for oral communications in the main sessions and for poster presentations.
Food for mankind: health and sustainability – Cognitive and clinical neuroscience of food oriented behaviour and obesity – Food, nutraceuticals and prevention of neuropsychiatric diseases will be the major topics treated in these three days, hopefully stimulating and with large participation of a multidisciplinary attendance from physicians, biologists, psychologists and food experts.
The International Meeting will be preceded by the Annual Meeting of Members of NeuroMI, which will allow each Member to communicate, as poster or oral communication, the progress of their research in every area of Neuroscience.
Registration for both events is necessary and free for NeuroMI Members. 
We hope to meet everyone at the Meeting!
The Scientific Board of NeuroMI
---
Written by Gessica Sala